It is now more than three years ago that I posted the message "From cast to mobile - Du plâtre au mobile". And I can tell you that cast and mobiles have changed ever since. The mobiles changed into dreamcatchers, earrings, pendants, décorations for home and garden... As far as the casts and crutches are concerned, they are somewhere on top of a cupboard in the hope they will never serve again.
Il y a plus de trois ans que j'ai publié le message "From cast to mobile - Du plâtre au mobile". Et je peux vous dire que les plâtres et les mobiles ont bien changés depuis. Les mobiles sont devenus des capteurs de rêves, des boucles d'oreilles, des colliers, des décorations pour l'intérieur et l'extérieur... Quant aux plâtres et aux béquilles; ils sont quelque part sur un placard en espérant qu'ils ne serviront plus jamais.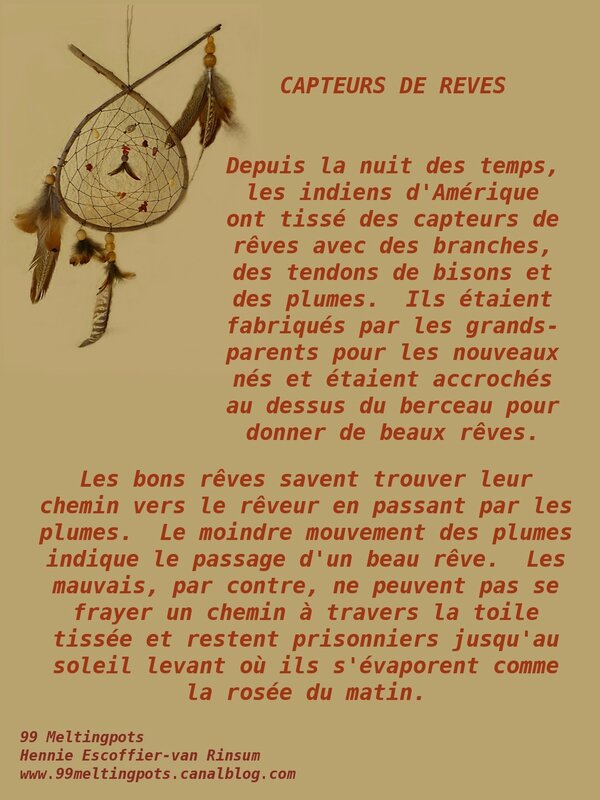 As you can see from the pictures, I am pretty much inspired by native American art. The dreamcatchers are made of wood (hazel tree, oak, chestnut, wicker), naturel feathers, gemstone, shells and have different sizes (3 to 30 inches).
En regardant les photos vous pouvez constater que je suis inspirée par l'art amériendienne.
Les capteurs de rêves sont faits avec du bois (noisetier, chêne, châtaigner, osier), des plumes naturelles, pierres gemmes, coquillages et ont des tailles différentes (de 10 à 100 cm).
Next time I'll let you now more about the other items. In the meantime you can have a look at the albums "earrings", "pendants", and "dreamcatchers". Don't hesitate to contact me for more information (click on "contacter l'auteur")
Je vous raconterai plus dans un prochain message. En attendant vous pouvez visualiser les albums "earrings", "pendants" et "dreamcatchers". N'hésitez pas à me contacter pour plus de renseignements (clickez sur "contacter l'auteur")